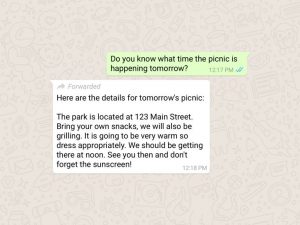 Whatsapp will now indicate to the users which messages have been forwarded to them, through a label "forwarded".
This will help the users to determine whether a message was actually written by the a contact, it will also curb the spread of misinformed and spam on the platform, because whatsapp cares deeply about users safety.
More on whatsapp:-
The "forwarded" label will apply to all text, image, audio, and video messages forwarded to users.
WhatsApp has also launched a new group setting for admins where only admins are able to send messages to a group.This option can be enabled by opening Group Settings and enabling the "Only Admins" setting under "Send Messages".
One way people use groups is to receive important announcements and information, including parents and teachers at schools.
Whatsapp labels forwarded messages